I have been reading and hearing about Sue Patrick's Workbox System around the internet.  It's gotten rave reviews as a system to organize and structure your child's daily homeschool work.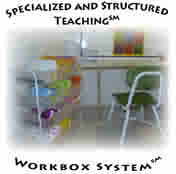 "It promotes student independence."  "(T)his is probably the best thing we have added to our homeschooling life!" "This is the best system ever!" "I finally have found a system that allows me to get to all the fun things that I tend to put aside."  I read all this and more.  I thought that the concept was intriguing and thought that Sue Patrick's System would help our family incorporate the fun activities that we often seem to skip in a typical homeschool day. When I found out that Sue Patrick creator of "the workbox system" was on the vendor list for the TOS Homeschool Crew I waited patiently for my opportunity to read the book and implement the system in our home.  My expectations were high.
The Workbox System was designed by Sue Patrick, who based it loosely on the structured teaching approach from TEACCH (Treatment and Education of Autistic and related Communication-handicapped Children).  Her motivation in developing this approach was to help her young autistic son.  Her son was not high functioning, but is now academically on grade level and participates in team sports and other social activities.  She had amazing success with her system  and began sharing it with other families.  This began her 11 year process of improving and perfecting the system.  Mrs. Patrick says, "The children that it works best with is all children."
The Workbox System:
Sue Patrick's Workbox System is a way to organize each child's school day with one of the main goals being independence.  Mrs. Patrick believes that "Many homeschoolers are plagued with independence issues.  Children become comfortably addicted to having mom sit next (to) them."  She also believes that homeschool children talk too much, needing to "speak out-loud every thought that enters their mind."  The system has tools built into it to  correct both of these issues.  Mrs. Patrick says, "Most children will be cured of the need for mom and too much talking within the first few days of using these tools."
In addition to enabling the children to work through their school day with minimal input from mom, workboxes also strive to include diverse activities and allow children to visually see what they need to accomplish. This helps them to stay on track, be motivated to work quickly and ultimately helps them to accomplish more in less time.
There are two components to the Workbox System, a physical setup and an educational philosophy.
For the physical system you will need the following for each child:
a wire shoe rack like this one from Target.
about 12 clear plastic shoe boxes
numbered cards and schedule strips included with the workbox system
a correctly sized desk and chair
Each evening the child's assignments are placed into the boxes along with everything he or she will need to complete the
assignment.  Then their day is scheduled using the numbered cards and schedule strips to visually guide the child through their day.  The cart and boxes are placed beside the child's desk and as the child completes each box it is removed from the shelves.  The goal is to mix fun educational activities with more typical school work.
Each morning when the children are ready to begin their school work, they mentally and physically "clock into school" (much like an adult clocking in at work) and begin with workbox #1.  They then work through their school day independently until they reach a "work with mom" box, when the mom works with their child to complete the activity.  When they have finished all of their work boxes they are able to "clock out of school" and be finished for the day.
The educational philosophy includes fostering independence, lots of repetition and review, structure and a foundation of discipline.  Mrs. Patrick recommends using learning centers, file folder games, poster centers in addition to quizzes & tests to reinforce learning.
Sue Patrick's Workbox System gives the parents ways to evaluate material and alter it to better fit their child's educational needs.  She recommends breaking down the curriculum so that the child is not working on too many skills at one time.  She has parents accomplish this by re-writing / re-organizing work sheets, making your own worksheets or creating your own curriculum entirely.
How we used workboxes:
In this Facebook discussion, Mrs. Patrick stated that, "Any variation/alternative on using them (carts) only makes your job of putting together their day and the child's day of learning more complicated and often less successful."    So we bought the exact set-up that she recommends.  Our family dedicated ourselves to making workboxes work in our home for 3 weeks.  I had read so many wonderful things about workboxes.  Everything that I had read about workboxes had been uniformly positive.  From large families to small the unanimous decision had been "These are wonderful."  I must be doing something wrong because it was not working for us, not working in a big way.
I was spending two or more hours each evening filling nearly 108 boxes!  During the day things went well, but not much differently from how our school days usually go.  I didn't notice our children working through their assignments any quicker, but then that is not something that we were having problems with, we've always had a very structured school day.  I knew I must be doing something wrong.  I researched and asked questions and improved my time by a little, but was still spending nearly two hours preparing each evening.  This was two hours (or so) of gathering supplies and setting up and was in addition to the time that I regularly spend planning, photocopying, correcting work, etc.
Then someone gave me a link to this  interview of Sue Patrick on Facebook. In the interview someone asks how long it should take to set up workboxes.  Mrs.  Patrick replies that it takes less time for older students and more for younger.  She goes on to say,
Setting up school for middle school to high school can be as little as 10 minutes per child. Preschool through Elementary will vary incredibly…(b)ut generally it shouldn't take more than 20 minutes.
I'd found my answer.  According to Mrs. Patrick the minimum amount of time that I would spend setting up each evening, if I had all older children (which I don't), would be one and a half hours.  I wasn't doing anything wrong, this was just part of the program.
So after 3 weeks of trying we came up with our own system, one that is completely unlike that advocated by Sue Patrick.  Our method enables us to accomplish our goal of regularly incorporating more fun activities and usually takes around 30 minutes to set-up each night.
Who I think Sue Patrick's Workbox System may work for :
I think that for some families aspects of the workbox system may be useful and can improve  their homeschool.  Obviously for many it already has, just Google "workboxes".
If you have a child with any variety of learning disabilities, I think workboxes are  something  to consider.  Workboxes can help your children remain focused on their schoolwork and work more independently.  All of my children enjoyed having the visual aspect of being able to see what fun things they would be doing during the day and thrived on racing through the workboxes.
Families whose school days seems to flounder or drag or those who want or desire more structure may also benefit from workboxes.  They can provide a solid visual structure.  Even if you get distracted, you can immediately see exactly where you left off and what needs to be done next.  It may help you and your children to be more focused on the task at hand.  They will also most likely help your family accomplish more in less time.
If you have a smaller family (I mean smaller than ours, I don't mean small. 🙂 ) and desire to run your homeschool more like a classroom, then perhaps it would also be a good fit.  I like how it encouraged me to think through each of my children's school day, placing an easier academic assignment after one that I knew would be a struggle for them.  It also makes it simple to add in all those fun things/curricula that you never used because you always forget.
I also think that a larger family that primarily uses textbooks and functions like a classroom could benefit from Sue Patrick's system.
Bottom line, I think that Sue Patrick's Workbox System, implemented as Sue Patrick suggests, brings the classroom into your home and allows mom to teach and manage effectively as a school teacher in that classroom setting.
Some comments on Sue Patrick's educational philosophy:
Sue Patrick's philosophy is not a good fit with our family.  Mrs. Patrick' System works to encourage children to be independent from mom and dad.   Our goal is in opposition to that.  We wish to build strong relationships and we desire our children to come to us for advice because we want to instill our values into them.  We want to pour our lives into them and we wish to teach them what we have learned so that they can stand on our shoulders and achieve greater heights.  We accomplish this through sitting together and talking to one another during the course of our school.
American teens do not seem to have a problem with independence.  Teens are too independent from their parents.  Think about it. However, responsible independence is a huge issue.   Sue Patrick's educational philosophy will foster independence, but not necessarily responsible independence.  The parent is deciding what the child should work on, when they should work on it and sometimes how long they should work on it and then giving it to the child in a form that is easily understandable.  The system laid out in the book does not involve requiring the children to make wise choices throughout their school day, it merely requires them to follow the instructions that have been prepared for them.
Don't misunderstand.  We desire independence from our children, but we've found that our children have learned to be responsibly independent on their own without us forcing independence early.  For example, on days when I tell the children that we will not be getting up on schedule, the oldest 4 or 5 will read their Bibles, do their chores and begin their school work as soon as they do get up.  This without instruction or supervision from either mom or dad.  When I was very sick during the pregnancy with Nicholas, there were many times when one of the three oldest would come to me and say, "Mom it's time to start dinner, we have xxx in the house.  May I use that to make xxx?"  Then they would carry through preparing a complete dinner for 10 people.  Responsible independence is our goal.  Independence without responsibility is the problem.
Another of Sue Patrick's main goals is to discourage talking during school hours.  I was homeschooled as a child and one of the things that I remember and learned from  is standing in the kitchen during school time and discussing current events or something that I was reading with my mom and siblings.  I do not remember the workbooks so well as I remember those discussions.  I am constantly grateful for the open dialogue that I enjoyed with my parents to take that away from our children during school hours is not something that appeals to us in the least.
For these same reasons, we do a lot of group work and avoid busy work activities.  The majority of our school time is spent reading aloud, discussing what we are reading, using narration and working on projects together.  I believe that workboxes are more useful for independent, busy-type work or a homeschool that primarily uses text books.  Of course, you can use workboxes for any homeschool style.  The system is versatile, though you will not find suggestions for adapting the system in Mrs. Patrick's book.
Sue Patrick's Workbox System Users' Guide e-Book is available for $19 and works for children preschool to highschool.
You can see all of my homeschool product reviews here.
I received a free copy of Sue Patrick's Workbox System Users' Guide e-Book in order to complete this review.  All ideas and opinions expressed are my own and I am not otherwise reimbursed for reviews.
This post is included in the Homeschool Curriculum Review Roundup.