A Young Scholar's Guide to Composers
Bright Ideas Press sent our family two products "A Young Scholar's Guide to Composers" and "The Mystery Of History, Volume 2: The Early Church and the Middle Ages" If you've read my review of "The Mystery of History" you will already be familiar with some of the components of "Composers".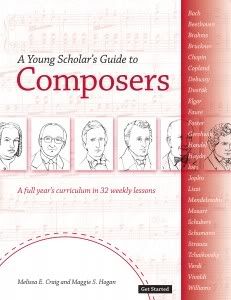 A Young Scholar's Guide to Composers" is a full year multi-level study of composers for children grades 4-8 (all of our children enjoyed "Composers" and learned from it, although not all of the activities are suitable for younger ages, they can still benefit). Each week you study a different composer, listening to his music and learning about his life. We covered each lesson in 3 days, but continued taking time out of our school day to listen to his music for the remainder of the week.
Each day you will listen to the recommended selections of the composers music. (These are all available on YouTube and URL's are printed in the book.)
Each lesson includes:
A 15 minute reading about the composer, his life and his music.
A note taking page that has a lot of specific questions about the reading.
Composer information cards – These are similar to MOH's memory cards, but a little more directed. Each card has space for the composers birth and death, country of birth, compositions, evidence as to whether or not he was a Christian and facts about his life.
Timeline work – The timeline is specific for this composer study and includes indications of the style of music the composer wrote and which composers influenced others. This is well done and has helped our children understand the history and development of music through time.
Map work
A coloring page – Terrific for the children to work on as they listen to the music selections.
What we thought:
"A Young Scholar's Guide to Composers" gets two thumbs up. For years I have desired to do some time of music history study, but have not found something that went beyond a couple paragraphs of information about each composer. "A Young Scholar's Guide to Composers" is a wonderful, well-rounded composer study that clearly shows the development of musical style, the relationships between composers and the influence of religion on music. It puts all of this into a geographical and historical context with map and timeline work.
Just like with MOH I think that this could be more user friendly in it's layout. (You have to turn to the back of the book to find the music selections and coloring pages for each composer, as opposed to being able to open the book to Vivaldi and finding everything that you need in one place.) However, in "Composers" this is merely a minor inconvenience. Our children all are enjoying the whole study, listening, coloring, composer cards and timelines. Even little Nicholas (1) and Colby (3) enjoy rocking with mommy during our listening time and even though one of the characteristics of Gregorian chants is that they do not have a distinguishable rhythm it didn't keep Nick from bobbing his head and snapping his fingers.
We are continuing to use "A Young Scholar's Guide to Composers" ($34.95) this school year and hope that the writers will put out another year study because we'd love to continue in our learning. Can I say this anymore clearly? If you are interested in a music or composer study run, fly, hop, jump or just click over and purchase this one!
Bright Ideas Press offers many multi-level homeschooling resources. I also reviewed "Mystery of History Vol 2".  You may read more of my homeschool reviews on my review page.
Bright Ideas Press sent me a complimentary copy of  " A Young Scholar's Guide to Composers" in order to write this review.  I was not otherwise compensated and all opinions express are my own.
This post is included in the Homeschool Curriculum Review Roundup.